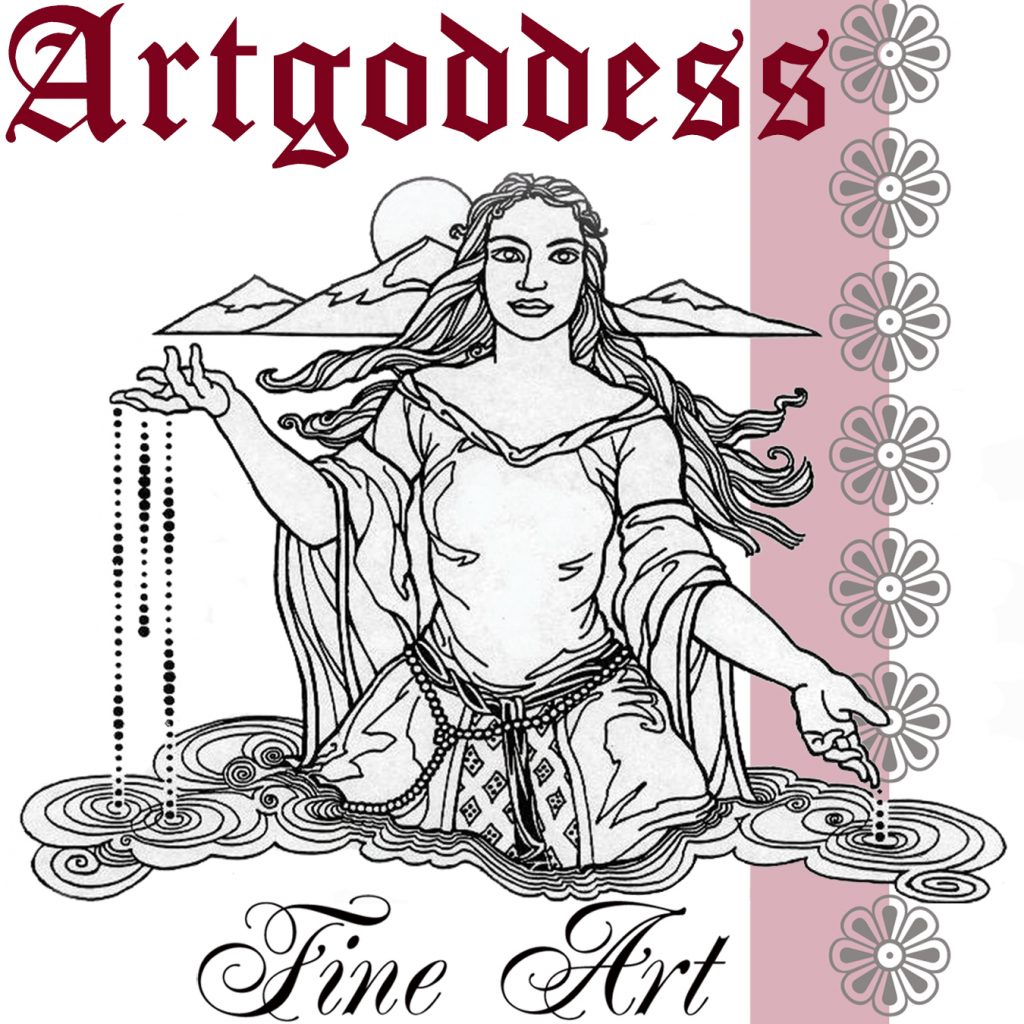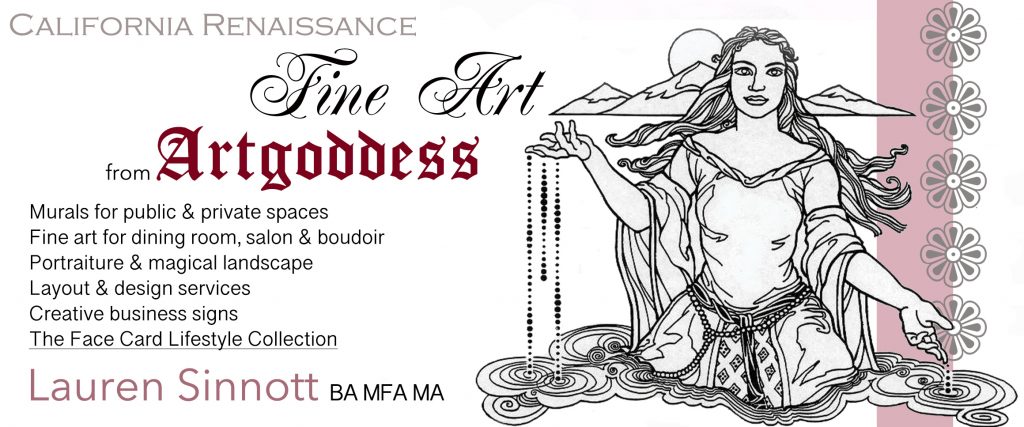 "Ukiah Valley – Past, Present, and Future"
Ukiah's latest and biggest mural is in progress on the north wall of the Ukiah Valley Conference Center in downtown Ukiah, California. Artist Lauren Sinnott was chosen in 2018 and completed the upper half of this monumental historical narrative during the summer and fall that year, taking a break for winter rains. From May to November 2019, Lauren painted 15 of the 26 foreground scenes, packed with portraits and stories!
After pausing for the winter and pandemic Shelter In Place orders this spring, work will commence in late May to be completed in 2020.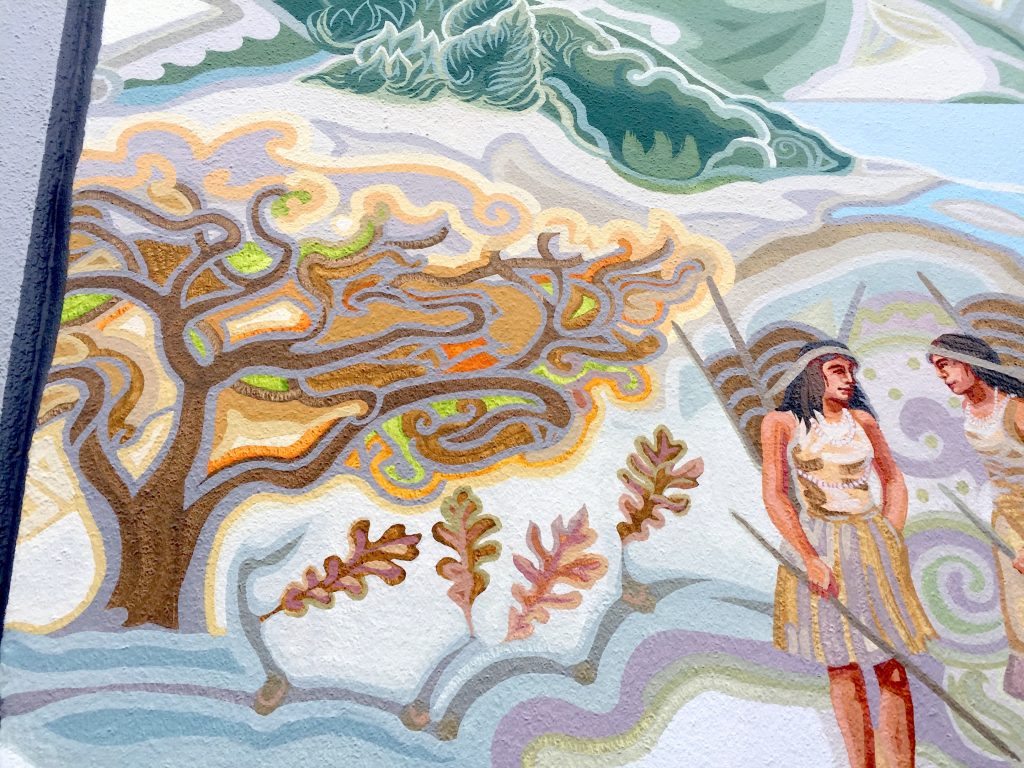 Please use the links below to jump to:
(See the Artgoddess Face Mask pages)
Mural Status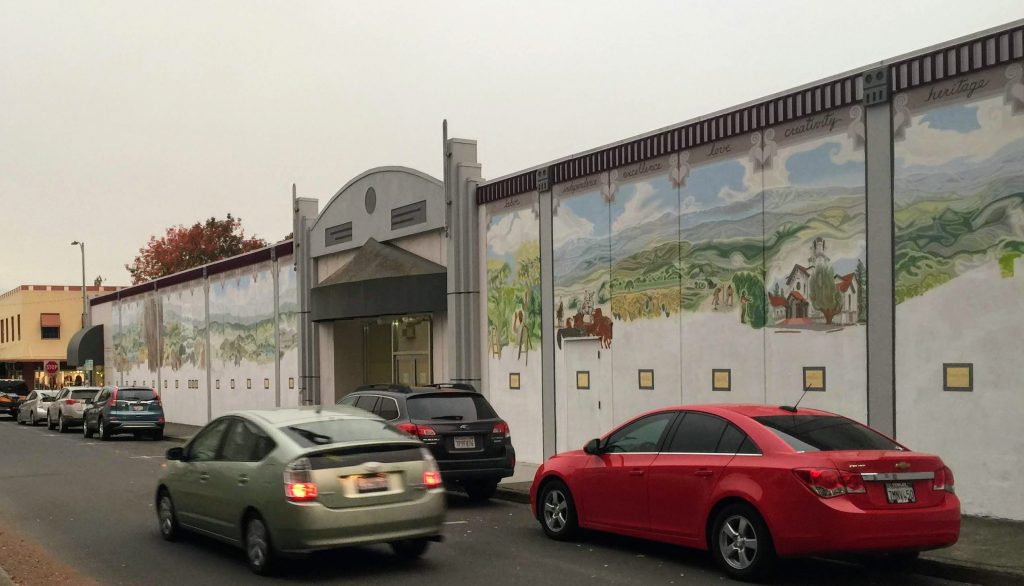 The mural is currently about 75% complete, beginning with the painted architectural elements and iconic words running along under the Art Deco element at the roof line, and moving down. Why start at the top?… So you don't drip on completed work below you!
On April 30th last year, I began to paint the foreground scenes in chronological order, beginning with "nature" at the left. The entire half east of the entrance plus one more panel to the west are now complete. In 2020 I will paint the scenes west of the entrance, culminating in the final panel titled "Our future together," which will contain a surprise. (Actually, many of the panels will have surprises, hidden figures, symbolism, and recognizable faces.)
Come see the progress, and wear your mask! –Lauren
How it started
The desired themes I was given for the mural competition were:
Pride in our unique and diverse community
Ukiah's characteristic landscape of agriculture and beautiful natural scenery
A positive sense of the future
This huge wall was perfect for my idea of a narrative history, a depiction of the region's past and present, with an expression of our hopes and dreams for the future. The wall is split into a series of vertical panels, a layout that lends itself to a chronological march of historical events, achievements and realities. Each panel represents an essential chapter in our story through a specific scene, topped by a meaningful word hand-painted in script.
About the Artist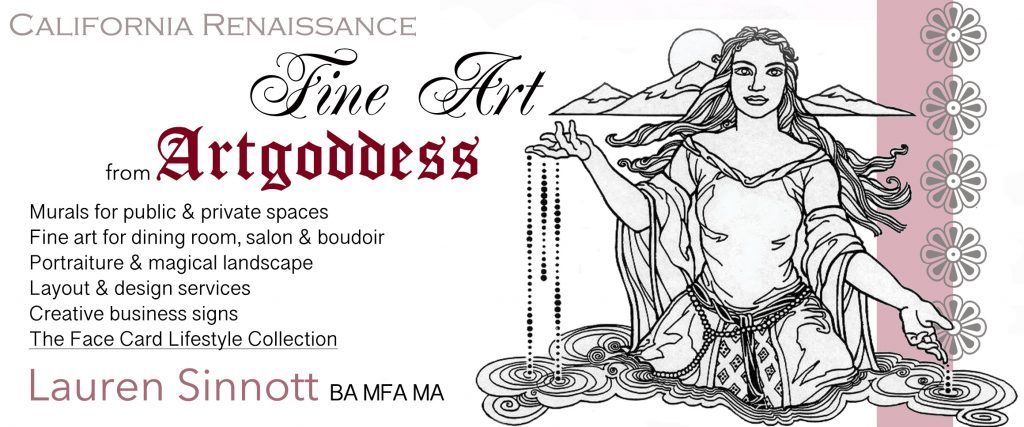 Visit www.artgoddess.com to see the range of my work.
ARTIST'S LETTER OF INTEREST (for this project)
I am a professional fine artist with a diverse portfolio ranging from the most ornate Baroque ballroom adorning the walls and ceiling of a tiny private bathroom, to a life-size 3-dimensional winged angel portraying a beloved surfer after his death at sea. While I have created a number of works visible to the public, many of these are either indoors or produced for an individual client. What is compelling about this opportunity is being able to create beautiful imagery that has an inspirational message meant for everyone, and about everyone.
A civic commission of public art, especially located outside where all are free to see, is the most egalitarian experience of art appreciation. I love galleries and gorgeous interiors, but we don't all have the inclination or ability to access such places. Works displayed on the city's buildings are truly there for all of us, all of the time. Having been chosen to create a work that harmonizes with Ukiah's cityscape in the service of the project's goals is an honor. I applaud the City of Ukiah for adopting a Public Art Policy and throughout this proposal, I hope to demonstrate how I intend to fulfill its requirements and live up to its aspirations with my creative work.
All representational art tells a story, and the best public art often helps tell the story of its place. If it is inclusive, it fosters a sense of pride broadly within a diverse community. My proposal is intended to enhance civic identity for all residents of our area and express that in a welcoming way to visitors. This is good for business, and simply good in general. Public art makes a commercial district more fun and interesting.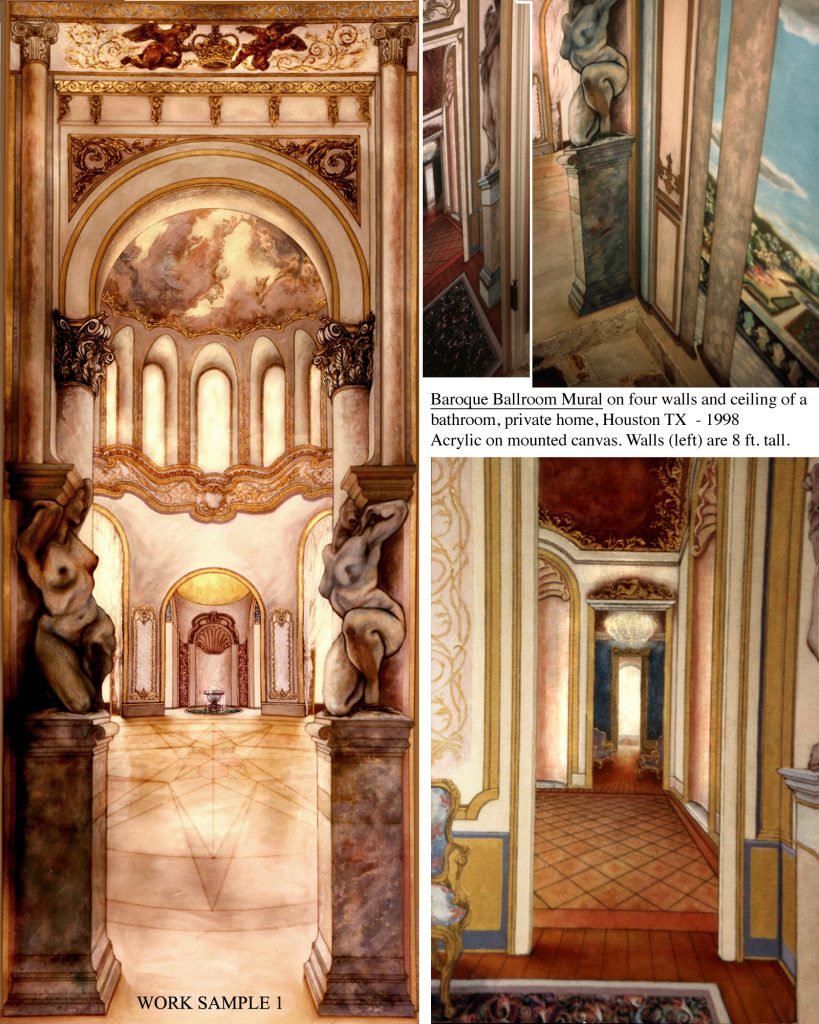 Public art also has a rich history, something I know well from my training. I have an extensive education in both the practice and history of art. It actually started with my mom, an artist and graphic designer. When I was a toddler, I worked at a little table alongside her own, as she designed book covers and laid out publications. In college, I studied drawing, painting, design and art theory, earning a BA and BFA. During these years, one of my primary instructors was an abstract painter who worked in transparent layers on huge canvases that ended up hanging in Texas banks. We all worked really big, and this taught me how creating large images – say a figure the same size as yourself (like in this mural) – helps you break bad habits and really look at the shape of things.
I then went on to earn an MA in Art History, specializing in the Italian Renaissance. This study truly shaped me as a painter. I think it lets me bring a dignity, elegance, and often a decorative enthusiasm and love of line to my subject. This background will help me depict our diverse community, past, present and future, with the respect and representational skill it deserves.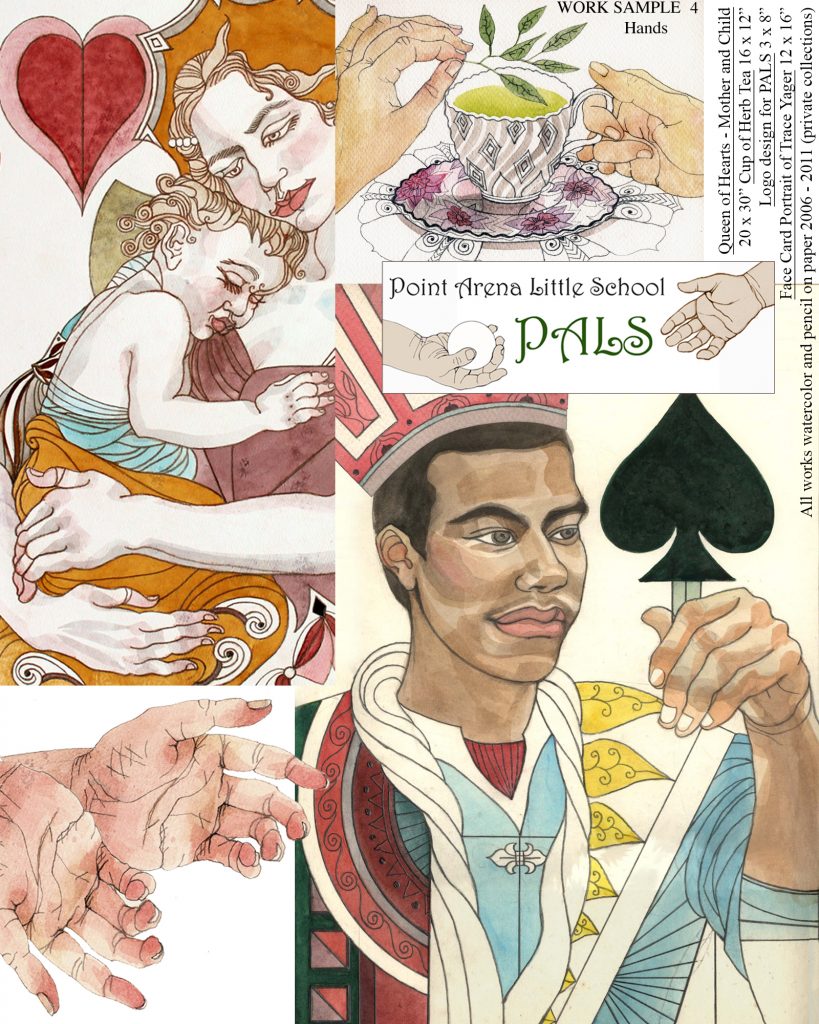 In addition to artistic vision and technical excellence, I offer my practical experience. Easy maintenance and longevity is paramount when one is going to the trouble of creating policy, then choosing, funding and installing works. See above for my methods and how the mural may easily be maintained so it looks fresh and vibrant for decades.
Finally, I feel well qualified to be one of the first artists to work with the community on public artwork guided by the new policy. Not only my experience working professionally with many different clients, but also my background in politics as Mayor of Point Arena has prepared me to do this. Policies are essential in all realms of governance and I see Ukiah's new Public Art Policy as a helpful roadmap, rather than a burdensome set of requirements.
Thank you for your consideration. I look forward to working with the City and the community as the project advances. Following approval, the daily progress on the painting will be sort of a show, something of interest to anyone visiting Ukiah's commercial center, during a large part of the tourist season. It should be fun for people to watch the mural come to life!
Lauren Sinnott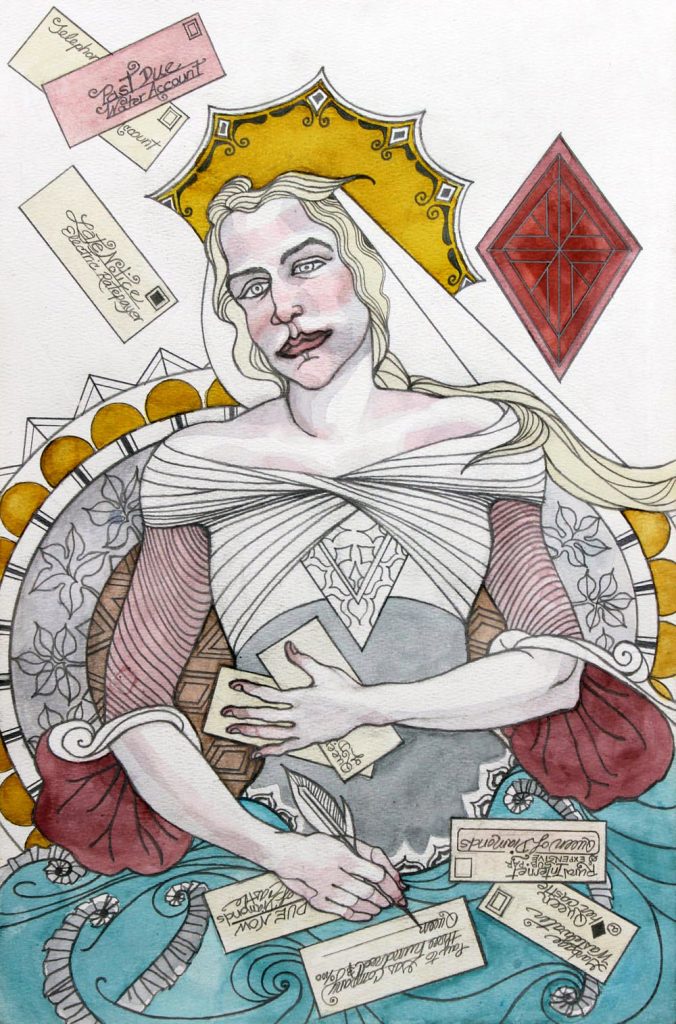 In the spring of 2020 we have all been faced with the Covid-19 pandemic and in this new reality, I joined a local group who was sewing face masks for frontline workers and others in the community. This led me to design a mask that cups your face rather than pressing down on your nose and mouth. See and download the Artgoddess Face Mask Pattern and Instructions.