SECTION THREE:
panel 11 transportation (you are here)
Ukiah was relatively isolated, reachable by foot, horseback or stagecoach from the rail line that terminated in Petaluma. That 80-mile trip took two days by horse-drawn conveyance!
I added a visible passenger inside the coach.
This changed in 1889, when the San Francisco and North Pacific Railroad completed its line from Petaluma to Cloverdale to Ukiah. My source was the photo below of the very first passenger car to come to Ukiah, which was a major event attended by people who dressed up for the occasion.
Two of the men in the photo are named: George F. Bradley leaning on the train, and W.G. Corballey, standing in a stylish outfit next to him.
But I also added the portrait of a contemporary transportation professional. This is the smallest portrait I have ever painted! I put him in the place of the train's engineer. For a good reason. See below:
It's a portrait of my good friend and former colleague/boss in his role as the long-time Executive Director of our county's regional transportation planning body, the Mendocino Council of Governments. (I served on his board as Point Arena Mayor.) On top of all that, Phil's an engineer.
At the bottom of the panel is a scene of the Chinese workers who were brought in for the hardest and most dangerous tunneling jobs, when the union bosses would forbid their crews from working. This is from a historic photo of one of the tunnels through which the Skunk Train still passes!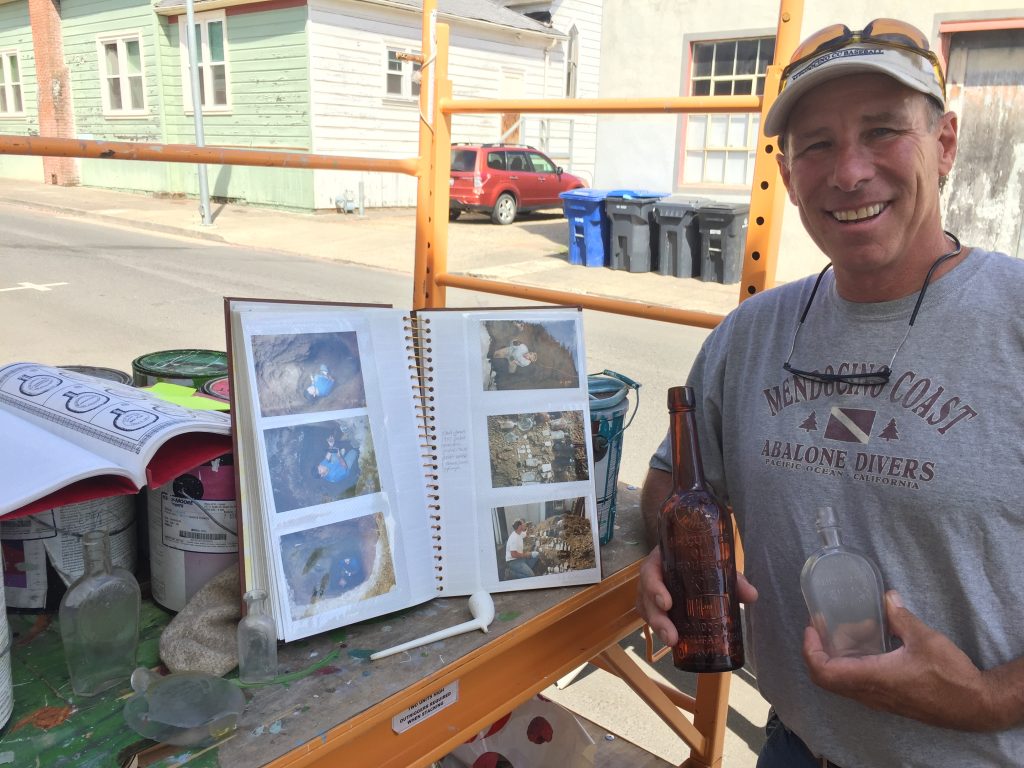 Local plumber and expert excavator Jeff Trouette taught me about the role played by the Chinese in nearly all digging of wells, cisterns and tunnels in the 1800s. He has uncovered and preserved numerous items from working on these locations, including liquor and medicine bottles tossed into outhouses when owners were done with them, and at the bottom of deep jobs, cheap ceramic opium pipes imported from Scotland.*

* belonging to the Chinese laborers who dug holes which begin to be depleted of oxygen below 18 feet!
Many Chinese came to California during the 1800s, especially around the Gold Rush. They were an important part of our communities, but often relegated to the spheres of cooking and the hardest labor.
On municipal, county, state and federal levels, anti-immigration sentiment focused on the Chinese resulted in a series of laws including restricting them from mining, conducting laundry or certain other businesses, owning property, and marrying whites, amongst many others.

Kate Maxwell, Ukiah Daily Journal, Local author Lorraine Hee-Chorley talks family and Chinese immigration history in Mendocino County
Transportation improvements went hand in hand with burgeoning agriculture in our area, the subject of the next panel. The coming of the railroads linked California's rich agricultural economy with the rest of the nation, and attracted a steady stream of migrants to join the many permanent local workers.