List of Panels:
(individual panel pages coming soon)
panel 15 labor
panel 16 independence
panel 17 excellence
panel 18 love
panel 19 creativity
panel 15 labor
With lumber, construction, agriculture and a growing economy in the mid-1900s came the need for a larger workforce, prompting population expansion in most demographics, especially Hispanic people.
Ukiah became a major producer of pears. Alex R. Thomas and Company owned hundreds of acres of Bartlett pear orchards on the east side of the valley. For 90 years local and migrant workers of all ages were employed picking and packing pears for domestic and foreign consumption. This was a job performed by professional pickers and their families (elders and kids roamed the orchard on foot gathering low-hanging fruit), and by many Ukiah-area high schoolers.
Pears are labor-intensive. Unlike grapes, pears cannot be machine-picked. They must be harvested manually, from a ladder, by the hands of someone skilled in how to do it without damaging the fruit.
As I was painting the mural, I met many of the city employees who work at or come to the Conference Center frequently. One of these, José Ruiz, saw my planned subject matter and said he used to pick pears, a skill he learned from his grandfather. He became my advisor on this panel, instructing me in every aspect of pear harvesting and storage, the ladders used and the brilliantly designed canvas pouch that opens from the bottom so the pears can be carefully laid down in their collecting bin and the bag simply slid away.
The remaining part of the "labor" panel, which honors all the work we do with our bodies and hands, is the Depression-era WPA project of building the stone wall that accompanies the beautiful wrought iron gate to Todd Grove Park.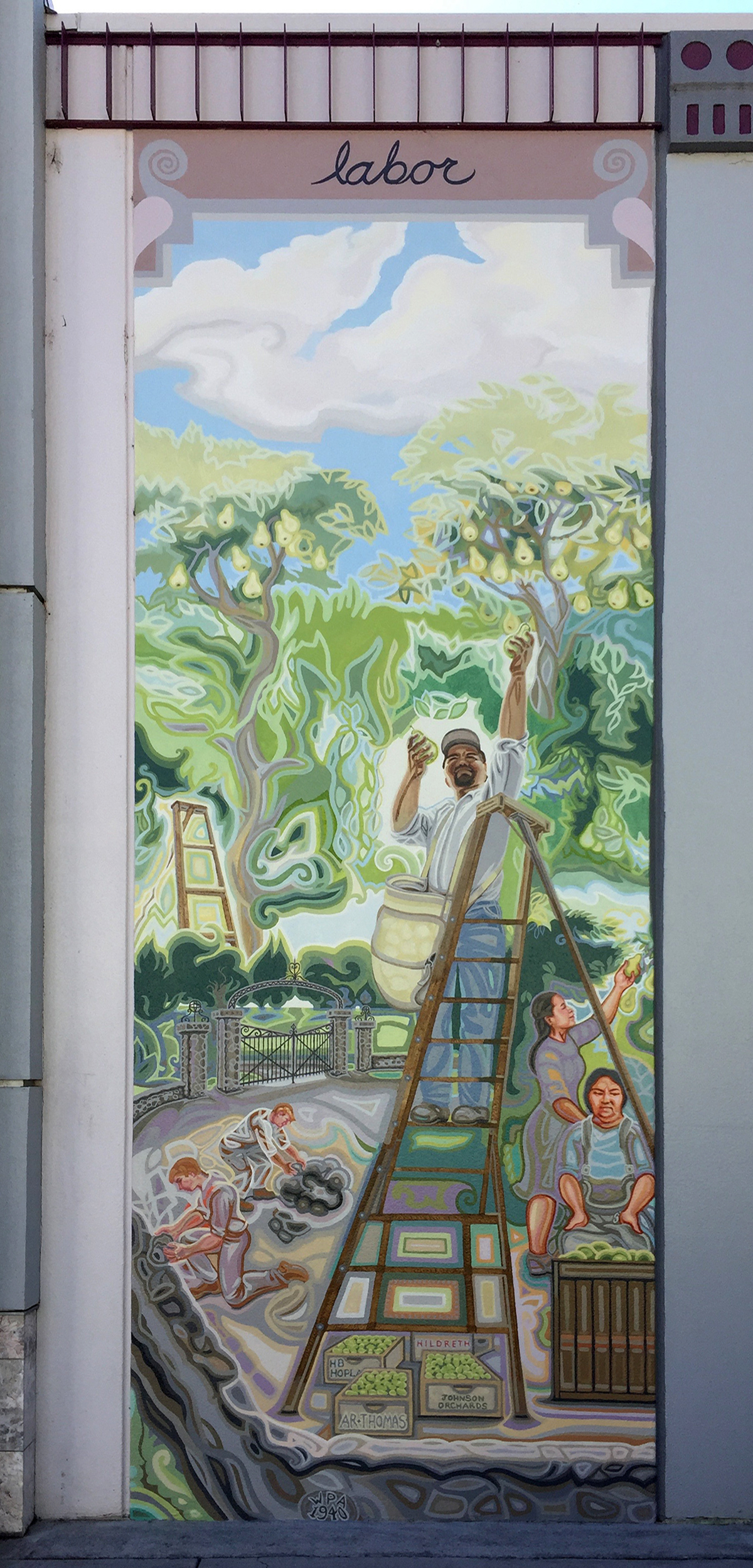 This is where I stopped for the 2019 season, completing the 15th panel. It's 2020 now and on June 6, I began work on the remaining 11. I have been promised a champagne celebration when this is all done! (after the pandemic)
panel 16 independence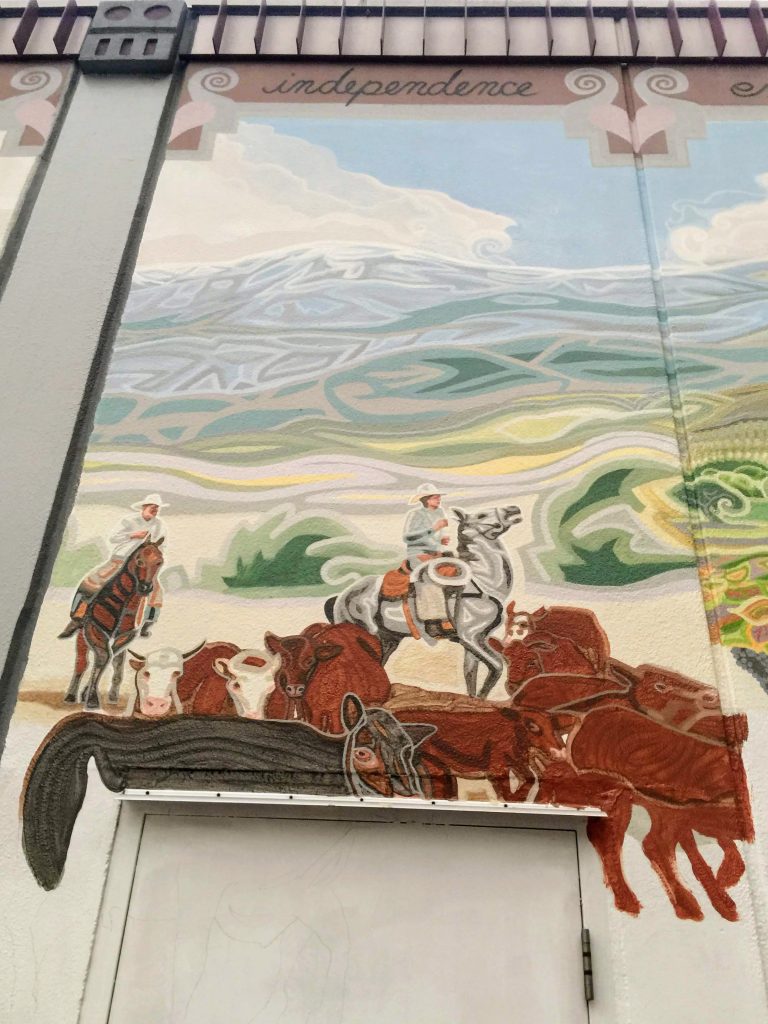 Cattle ranchers on horseback with their herd at round up. Ranching continues to be important in our region, increasingly for local consumption of meat by a community that values self- sufficiency.
While the upper part of the panel depicts independence in terms of lifestyle, the lower section will show the struggle for political independence in a scene of California suffragettes marching to be allowed to vote.
The demand for women's suffrage – the right to vote – gathered strength in the 1840's, part of a broader push for women's financial rights and personal, as well as professional autonomy.
Women's fight for the vote took 80 years! And it was achieved only 100 years ago, with the centennial of the 19th Amendment occurring in 2020.
Initially, most people in America could not vote. I detail these milestones on the panels of the open door: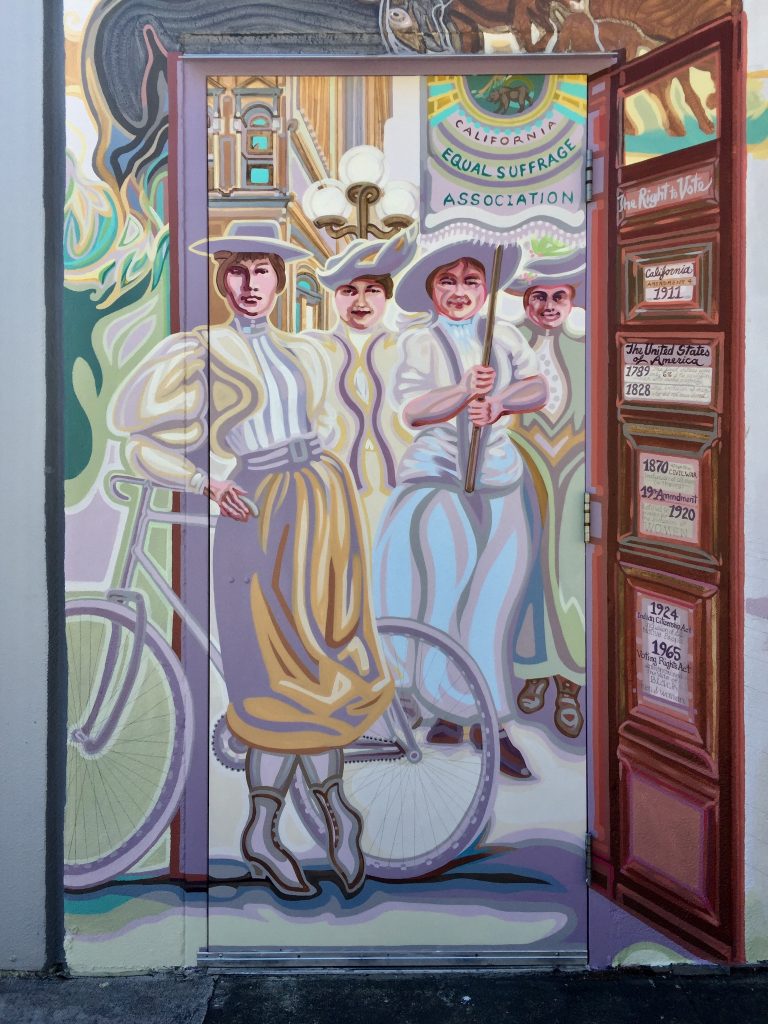 OK, why is there a bike in this scene?
The modern bike was developed in the late 1890s, with a chain-driven gear train on the rear wheel, and pneumatic tires, as opposed to the giant front wheel bikes that were quite hard to ride.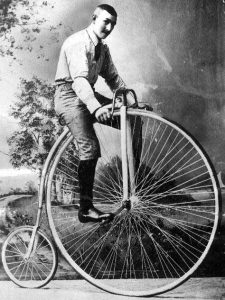 The penny farthing bike was dangerous. It was easy to take a header over the front wheel and women's voluminous clothing wouldn't stand a chance near those spokes!
The modern bicycle was affordable and gave women autonomy. Women riding bikes blatantly disproved the silly belief that women were physically weak. It was thought that women did not have the intellectual and emotional capacity to pursue serious study, to enter professions, to vote.
panel 17 excellence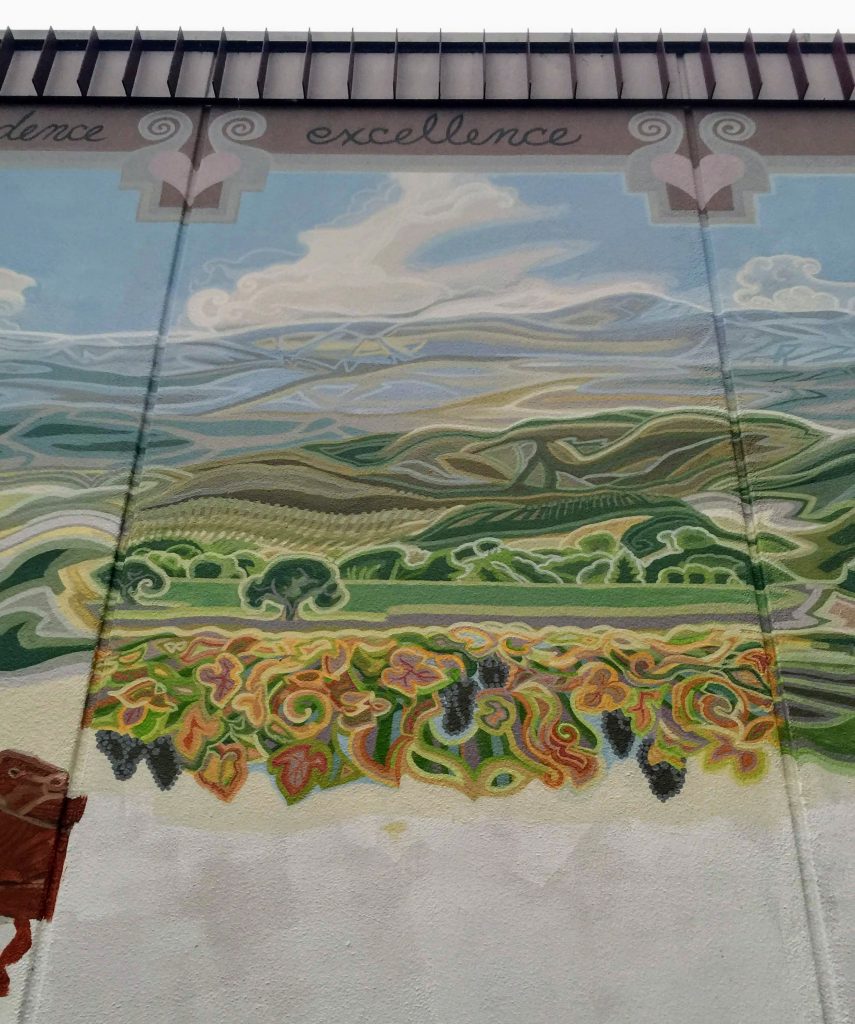 This panel shows a vineyard, patterned on local Rivino's tasting zone overlooking the Russian River. A decorative band of Zinfandel grapevines is painted over the foreground, and now a few changes have been made! For one thing I added the third iconic tree…
Mendocino County is one of California's largest and most climatically diverse wine growing regions. We are a leader in organic grapes and wines.
Viticulture in California dates back to the Spanish missions of the 1700s when vineyards were planted to make wine for mass.
Yet again, the Gold Rush played a role in history. California's ballooning population in the mid-1800s led to an exponential increase in demand for meat and all types of food staples, goods, and also for wine.
Prohibition nearly choked the growing industry, but it gradually recovered, an effort championed in Ukiah by the Parducci family.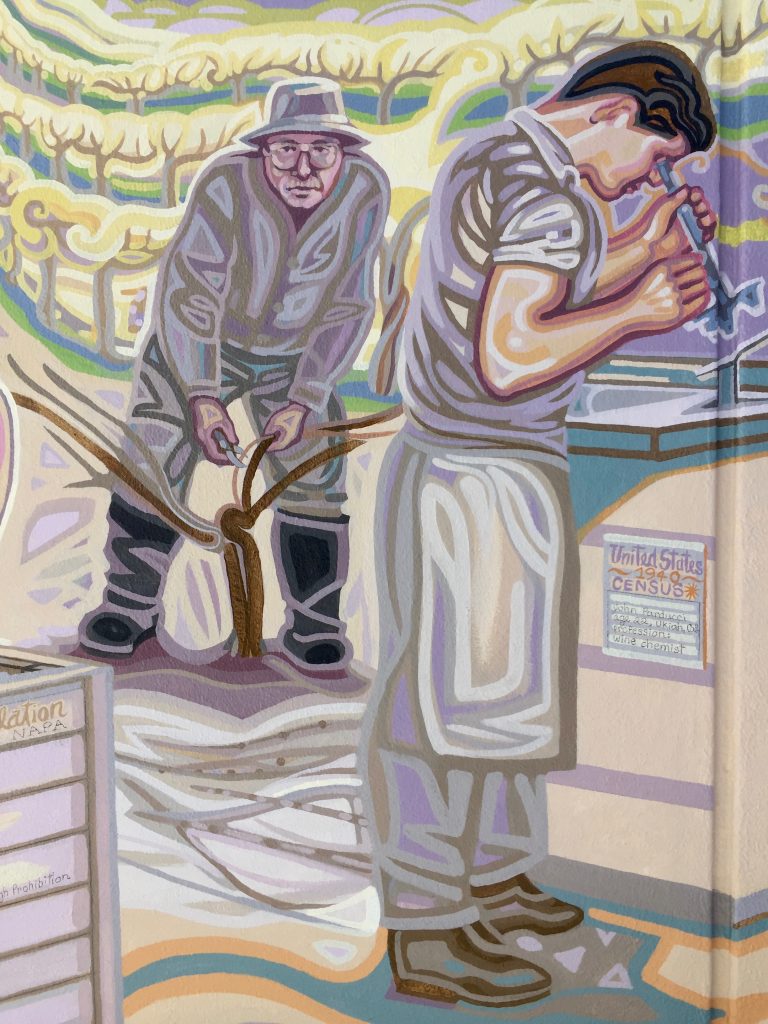 During the 1960s and '70s, a renaissance in wine making led to higher quality production. The tipping point came at a French event called The Judgement of Paris, when California wines were blind taste-tested against the French and swept the competition. Both red & white winners were from the California North Coast Apellation.
Charlie Barra was an innovator and one of the founders of the California North Coast Apellation. (more to come – website being updated!)
Barney Fetzer started the family wine-making project when he and his wife Kathleen bought a ranch with a run down house and an old vineyard in Redwood Valley. The entire family including 11 children pitched in. Barney thought it would was great to grow grapes but even better to make and sell your own wine. He felt California wine making would evolve into two types of wineries: big corporate entities producing large undistinguished batches, and small family-owned operations that would make highly individualized quality wines. He wanted to champion the latter! He saw Mendocino County as an unknown region and wanted to put it on the wine map.
panel 18 love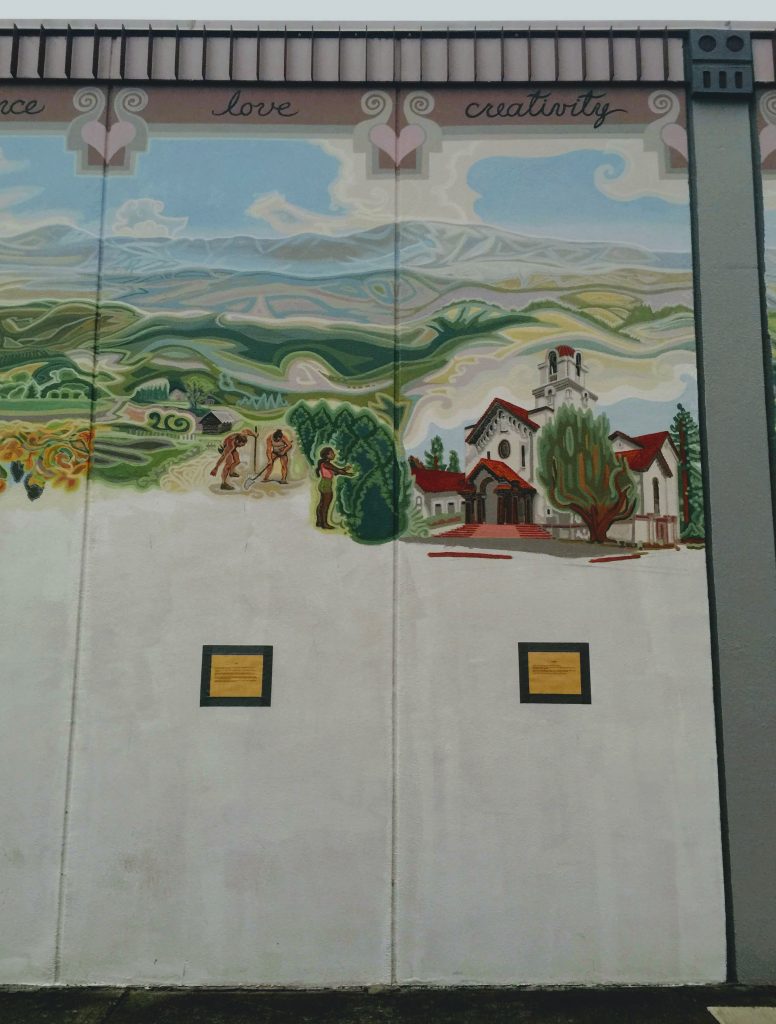 The Hippie arrival and back-to-the-land movement is the subject of this panel, surmounted by the word "love" for "the love generation" and "The Summer of Love" in 1967.
In the panel you see a communal group in their garden, preparing ground, growing vegetables and tending their thriving Indica marijuana plants.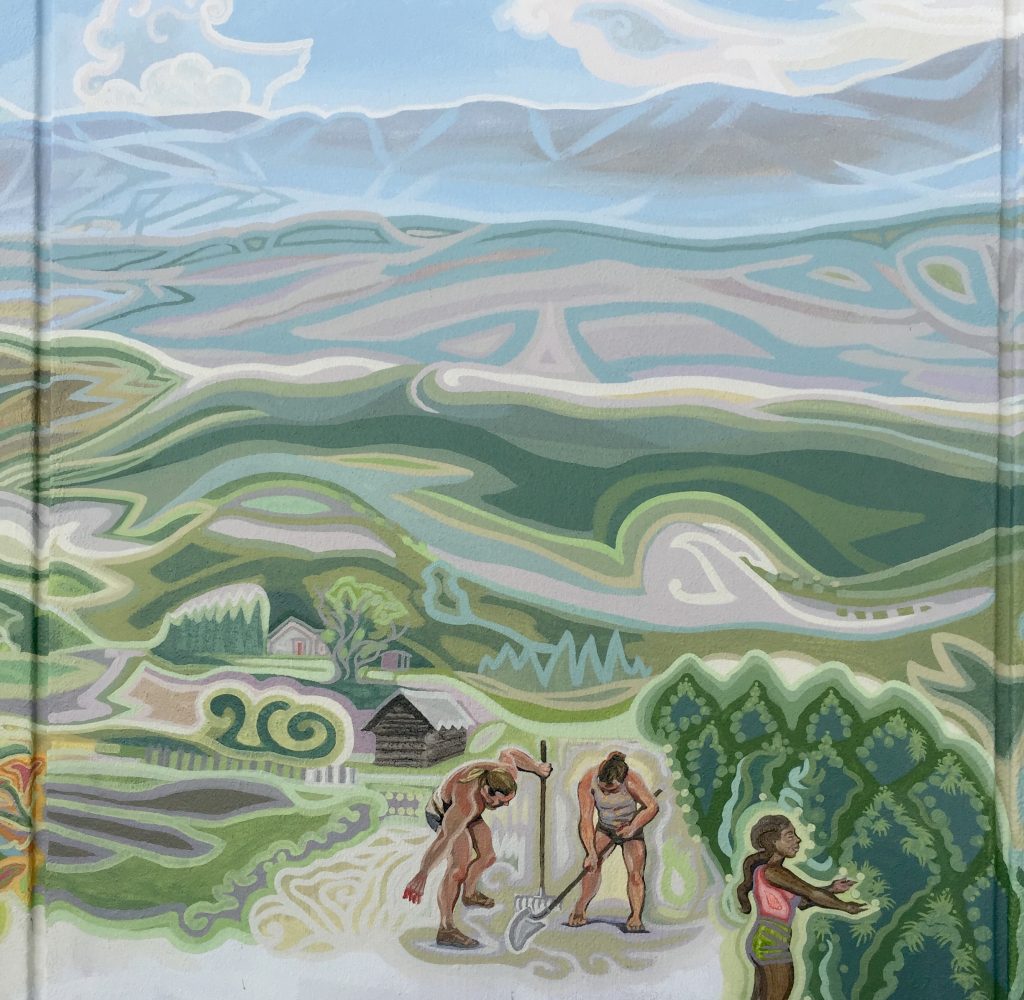 San Francisco was the epicenter of the "Summer of Love," and during the next decade many flower children (and their actual children) moved north, including throughout Mendocino County, to live close to the earth, with an emphasis on sharing, openness and peace.
Over time, the newcomers and the established community transformed each other to produce the diverse and mostly tolerant society we now enjoy. The hippies put down roots and created an economic niche for themselves by cultivating marijuana. This underground economy had a huge boosting effect on the region.
As we enter legalization in California, changes are occurring, but Mendocino County has become a leader in high quality marijuana cultivation and products, including those used for medicinal purposes.
panel 19 creativity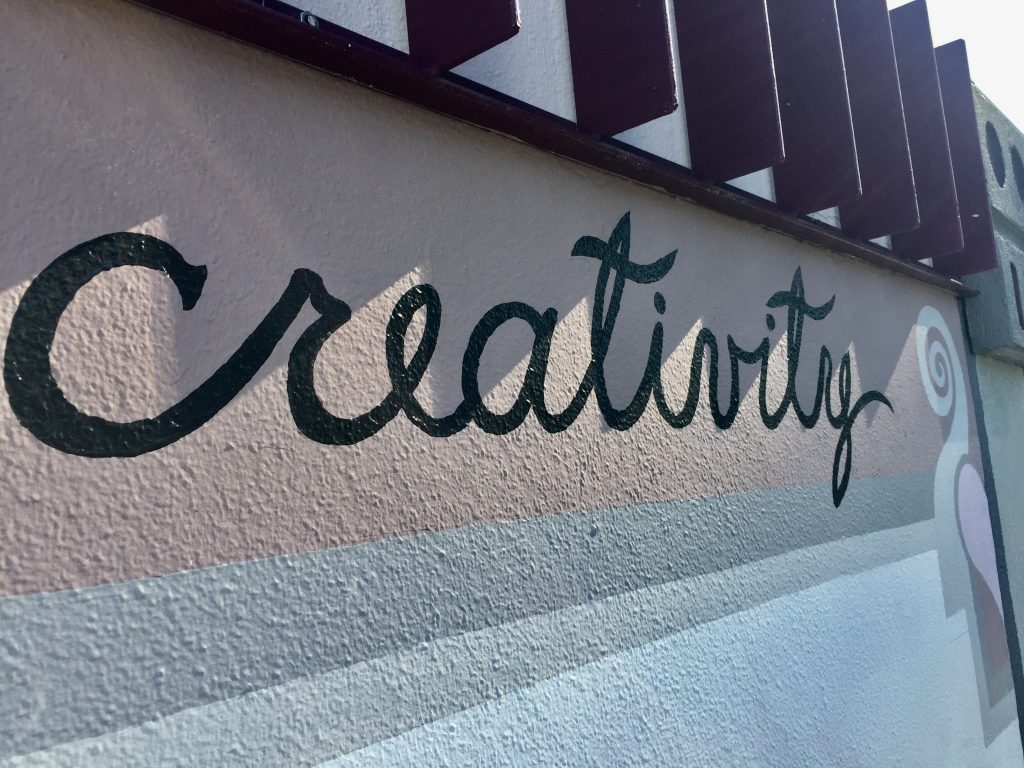 In this panel we again see the old and the new, this time embodied in the same structure: this Spanish-style edifice historically was Saint Mary's Catholic Church, and many people who saw the mural when I was working on this panel said, "Oh, we were married there!"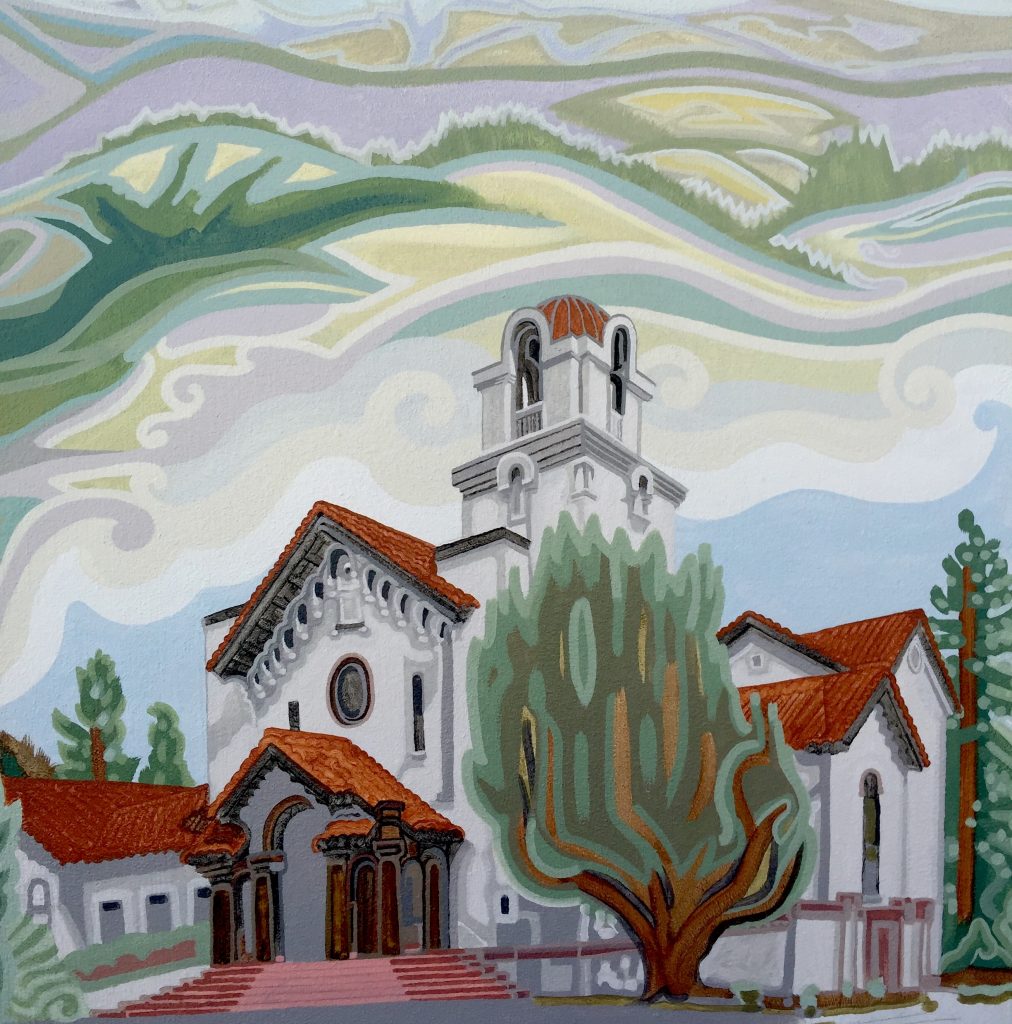 But young girls who see the panel often say, "Look Mommy, that's where my dance class is!" because now the beautifully renovated building is home to the School of Performing Arts & Cultural Education, commonly known as SPACE Theater.
This panel represents the arts, and will show modern dancers from SPACE performing in the foreground. There will also be a surprise portrait in this panel, becoming manifest next summer! HINT: she wears cowboy boots…